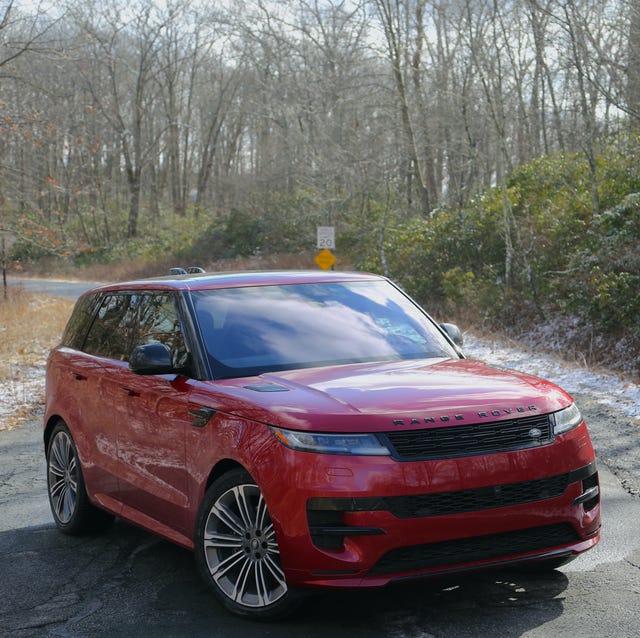 Will Sabel Courtney
Like a stone on the bottom of a rushing river, the Land Rover Range Rover Sport has been growing smoother every year. When it first debuted back in 2005, it looked as aerodynamic as a brick — all sharp edges, hard lines and rectilinear forms. The second generation that arrived in 2013 was still boxy, but the edges had been sanded down. By 2022, when the third-gen version launched, it looked as slippery as a worn bar of Dial.
Of course, that's not the only change Land Rover made. The 2023 model is all-new, just like the full-size Range Rover that preceded it into showrooms by just a few months. Under the hood lie new powertrains, under the dash lies a new computer system. In all but name, it seems a major effort — and a potentially worthy foe in the ever-competitive midsize luxury SUV category, right? I took it for a spin to find out.
Advertisement – Continue Reading Below
What makes the Range Rover Sport different from the Range Rover?
Once, the Range Rover lineup was simple: there was the Range Rover. These days, there are a quartet of vehicles boasting that name within the Land Rover lineup: the Range Rover Evoque, the Range Rover Velar, the Range Rover Sport, and the range-topping Range Rover.
The Evoque is the baby Rangie — the smallest and cheapest, made for city dwellers and new entrants to the brand. The Range Rover proper is the all-out do-everything flagship, meant to combine the true go-anywhere capability of a Land Rover with the upmarket luxury car ride, status and comfort of a Mercedes, or even a Bentley. The Velar, meanwhile, is the sophisticated midsize crossover for the fashion-forward — capable of clawing through all sorts of weather but giving suburban parents a glamorous alternative to more anodyne fancy family SUVs.
The Range Rover Sport's mission brief, in turn, is just what it sounds like: to serve up a sportier version of the Range Rover experience, one that's more involving and — dare I say — fun to drive. There's a reason the best-known version of the previous model was the supercharged 542-hp SVR; it, arguably, was the variant that best represented what the Range Rover Sport aims to be.
The Range Rover Sport is designed to be stylish
Standing out of the crowd has long been part of the Range Rover appeal — both in the sense of "Unlike your Lexus, my fancy SUV can actually go off-road" and "look at me, I'm doing well enough for a Range Rover, not just a Land Rover."
The Range Rover Sport certainly excels there, managing to build the current Range Rover design language to impart the impression of going fast even when standing still. Credit the sleek taper of the roof, accented further by the blacked-out A-pillars. The high flanks make the optional 23-inch wheels (yep, those are 23s) look positively proportional. The front end suffers somewhat from its need to fill the ample space needed by its high beltline and ostensibly more pedestrian-impact-friendly blunt nature, with not two but three horizontal grill structures stacked up and all of them clad in black thanks to an optional $750 design package. (I imagine a white RR Sport would look something like a triplex Oreo.)
But the Range Rover Sport's interior is almost too style-heavy
Inside, the Sport offers another bit of variation versus the regular Range Rover. Where the top shelf version feels expansive and open, the Sport is more cocooned and cockpit-like — as if the inspiration were Porsche 911, not Ford F-150.
It's certainly an attractive package inside, but it also feels as though function played second fiddle to form in ways. The only USB-C port I could find up front hides in the cubby below the shifter, and requires seriously awkward contortions to reach. (There's also a wireless charger, but it's only a little easier to reach, and its location isn't obvious. Besides, a wired connection always provides a more secure link for data and power alike.) The 12-volt out is is practically useless, tucked away in the upper glovebox; the door won't close with anything sticking out, so dash cams, radar detectors, Spotify Car Things and so forth are all basically impossible to use. Land Rover's latest infotainment system, dubbed "Pivi Pro," is certainly a big improvement over the brand's past work, but it looks better than it functions; it requires a much stronger press than you'd expect from a touchscreen, and the menus and submenus are hardly models of intuitiveness.
And even though this is an unabashed luxury product, some pieces just don't feel worthy of the price. The haptic touch panel buttons on the steering wheel feel cheap, and the glossy piano black trim spread across much of what isn't clad in leather feels more like something you'd find in an uplevel Mazda than a $90,000 SUV.
On the road, the Range Rover Sport proves a solid companion
Sadly, I didn't have the chance to take the Sport off-road during my time spent with it; the Tri-State area where I live is frustratingly berefit of such things. (Of course, some of the roads of the greater New York metro area pack enough potholes and bumps to practically qualify as an off-road trail, but that's neither here nor there.)
Still, that's not as big an issue as it would be with the regular Range Rover, or, say, the Land Rover Defender. It may have low range and all sorts of drive modes for different types of terrain, but even if its can hustle through the wilderness, the Sport is more aimed at buyers who'll spend the vast majority of their time on pavement — and thus want to enjoy their vehicle there more.
Under the hood of most new Sports lies a twin-turbo inline-six in varying state of tune; in my Dynamic SE trim test car, for example, it made 395 hp and 365 lb-ft. (A plug-in hybrid version is coming shortly.) It's a far smoother engine than the supercharged V6s found in non-SVR Sports of the past generation; while it's the same unit used in the likes of the Defender, for example, it feels much silkier and more impressive here. Power is potent, not overwhelming; you'll have to wait for the inevitable next Range Rover Sport SVR for that. Same goes for the desire to cook around turns; while it's planted and secure in the corners, with a much more buttoned-down feel than the full-size Range Rover, Sport remains closer to the definition found in sport-utility vehicle, not sport sedan.
Is the Range Rover Sport worth the price?
As with all luxury products — and, perhaps in particular, luxury cars — that comes down in large part to perspective. If you're simply looking for a sleek, smooth-cruising luxury SUV of a sporty (or at least quasi-sporty) mien, there are plenty of choices out there. A Mercedes-Benz GLE-Class or BMW X5 both make compelling choices for themselves at this price; a Porsche Macan GTS is smaller but offers far more oomph, while a Cayenne E-Hybrid delivers similar space and the flexibility of a PHEV — and both are more involving on the tarmac.
But if you're actually planning on using its off-road capabilities — even if it's only once a year, say for that drive to your parents' house for the holidays, your wedding anniversary ski trip or an off-track car camping trip with the gang — then the Sport makes a compelling case for itself. Ultimately, it comes down to how much you want (and need) that name — and what it represents.
2023 Land Rover Range Rover Sport
Base Price / Price as Tested: $84,475 / $97,375
Powertrain: 3.0-liter twin-turbo inline-six; eight-speed automatic; full-time four-wheel-drive
Horsepower: 395
Torque: 369
EPA Fuel Economy: 18 mpg city, 26 mpg highway
Seats: Five
The 33 Electric Cars We're Most Excited to Drive in the Future
The next few years will be packed with new EVs. These are the ones that have us jazzed the most.
READ THE STORY
Advertisement – Continue Reading Below