Agreement another sign EV investment dollars are flowing to unusual places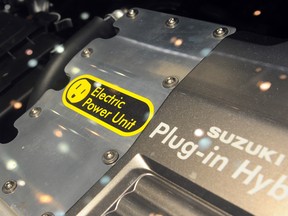 Article content
Toronto-based startup Inmotive Inc. has struck an agreement with Japan's Suzuki Motor Corp. to develop a two-speed geared transmission for electric vehicles.
Article content
Details of the financial arrangement announced this week remain opaque, but the broad outlines show that electric vehicles continue to evolve in unexpected ways as tens of billions of dollars flow into the auto industry subsector.
Article content
Currently, electric vehicles use single-speed motors. But Inmotive says its patented mechanical two-speed transmission makes EVs up to 15 per cent more efficient, thereby extending their range or allowing automakers to use smaller, cheaper batteries and still meet performance expectations.
The situation demonstrates that even as electric vehicle performance is often linked to battery chemistry and size, there is also a burgeoning group of companies focused on innovation in other areas, such as the motor.
Article content
"I would say the electric vehicle, in its evolutionary path, is about where conventional engine cars were in 1940," said Peter Frise, associate dean and professor of mechanical and automotive engineering at the University of Windsor. "They're safe, reliable and they work, but there is a heck of a lot more to be done to optimize them."
He predicts many EV advancements will come through software and other digital innovations from companies outside the auto sector's epicentre in Windsor, Ont. The automotive industry is increasingly interwoven with the tech sector, Frise said.
Indeed, back in 2011, Inmotive was a tenant in the MaRs Discovery District, a non-profit tech incubation centre in downtown Toronto. The company was created in 2010 after Anthony Wong, co-founder and chief technical officer, and force behind the "mechanical sprocket," was introduced by a mutual acquaintance to "serial entrepreneur" Paul Bottero, co-founder and president. Inmotive has since spent the last decade collecting 17 patents.
Still, the company differs from many other electric vehicle tech innovators in that its "morphing sprocket" is mechanical in nature.
"In the beginning I was originally trying to think of a better kind of bike transmission," Wong has said of the invention.
Article content
On a bicycle, a derailleur moves the chain side to side over sprockets to switch gears. Wong's idea was to instead move the sprockets over the chain, and the "morphing sprocket" was born.
Several years ago, the company left the MaRS district and established its headquarters in North York, Ont. Inmotive also has a business presence in Europe, Japan and China.
"We're starting to generate revenues now, but we're still an early stage company," Bottero said.
Though Bottero would not disclose details about the deal with Suzuki, he described Inmotive as an engineering and design firm that plans to license its technology to automakers.
The company is currently backed by family offices and high-net worth individuals and has 32 employees, according to Bottero.
Article content
Intially, the "morphing sprocket" was intended for stationary uses, but Bottero said they pivoted six years ago to mobility functions. Besides extending a vehicle's range, he said the two-speed transmission could increase load capacity, making it attractive for buses or trucks.
"There aren't a lot of companies in Toronto doing what we do," he said.
Still, an estimated US$100 billion in investment has flowed into the auto sector since 2020, according to McKinsey & Company. That's driving a wide-ranging reinvention of automobiles to electric, autonomous, connected and shared vehicles.
How Ottawa's zero-emission vehicle mandate might affect auto prices

'Nickel and copper's time': Vale to split off metals group to capitalize on battery demand

Navdeep Bains: This is a pivotal moment for Canada to accelerate its critical minerals advantage
Article content
In Canada, some of that money has flowed into companies located far away from the traditional auto sector centred in the southwestern portion of Ontario.
In July, for example, Belgium's Umicore SA announced it would build a battery parts plant in Kingston — a six-hour drive to the east.
Frise said that part of what consumers find appealing about electric vehicles is that in general they contain fewer moving parts than combustion engine vehicles, which in theory means the vehicles cost less to maintain.
This has generally made EVs mechanically more simple, he said, but Inmotive shows that EVs won't always evolve in line with that trend.
"You never know where a good idea is going to come from," Frise said.
• Email: [email protected] | Twitter: GabeFriedz